PCR Tubes - what kind of lid ? (Oct/19/2007 )
Hi everyone,

I was wondering why PCR tubes are far more expensive when they come with flat lid ?
What kind of tube are you using ?

Thanks

-Kooothor-
---
we just use small eppendorfs - what kind of tubes do you mean?
-Dominic-
---
Liitle tubes with 0.2 mL capacity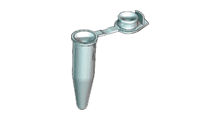 -Kooothor-
---
i use flat lids but a number of labs around me prefer domed lids because they seem to make better contact with heated lids.
-mdfenko-
---
I like domed lids. Its easy to see if its closed well and better contact with the PCR mashine top.
-dancing snake-
---
seems we were talking about the same thing kooothor

i tend to grab whatever is to hand - have'nt really noticed any difference between the two (the chemicals are at the bottom of the tube after all)

dom
-Dominic-
---
I prefer domed lids and we used to use them. But they are more expensive, so we started to buy flat lids tubes (very cheap) and we see no difference. Actually, I compare same PCRs (3 different sizes) in domed and flat lid tubes and I see absolutely no difference.
-aztecan princess-
---