Help identifying connectors - (May/04/2012 )
Hello,

Someone in our lab is trying to purchase the following connectors.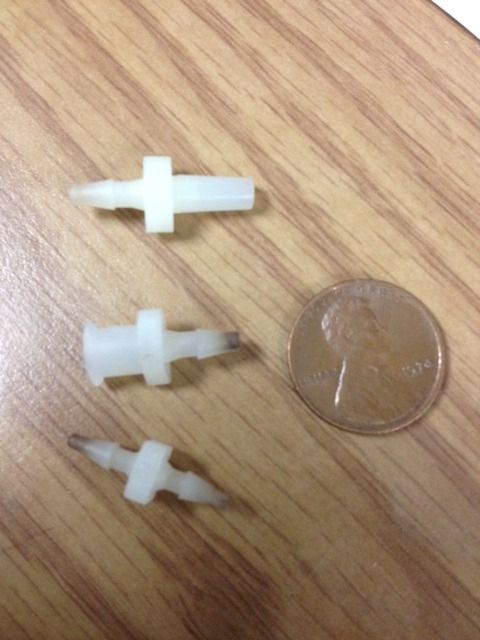 They are very small, as you can see, about a 2mm diameter on the ends. Does anyone know where I can purchase these?

Thanks.
-n00b-
Those are male and female luer connectors, with barb fittings for connecting small diameter tubing. You can likely get these at Upchurch, Cole-Palmer, possibly at Small Parts. They are much more expensive than they should be.
Also check Amazonsupply.com:
http://www.amazonsupply.com/s/383606011/ref=sp_iss_383606011
-phage434-
the bottom one is a barbed straight connector for tubing with an id of 1/4" to 1/2". you can purchase from bel-art products (they also sell assortments and others). cole parmer has assortment packs.

the middle one appears to be a luer to barbed straight connector.

the top appears to be half of a barbed quick connect.
-mdfenko-
The top one is a male luer connector minus the housing that clamps to the female luer. It's just like the end of a plastic syringe minus the outer part.
-phage434-