Hi all,
I am pretty new to the EMSA and Supershift experiments and i have few questions
I am looking at the gel shift of two oligonucleotides of 31bp that differ only on one base G vs A
I am able to have a very nice gel shift with the variant A, it can be displaced by A but not G allele.
The motif involved is a putative binding sequence for COUP-TF and/or PPAR gamma.
I tried PPARgamma and COUP-TF antibody (from SCBT) and i am only able to reduce the intensity of the band.
The PPARgamma antibody should not interfere with DNA binding as it's raised against the C terminus whereas the DNA binding is the N terminus domain
Attached is one example of my EMSA:
I am using Pierce Biotin EMSA kit and incubate antibodies 10min RT and then 20min RT for the EMSA (I use dIdC except for the last 4 lanes)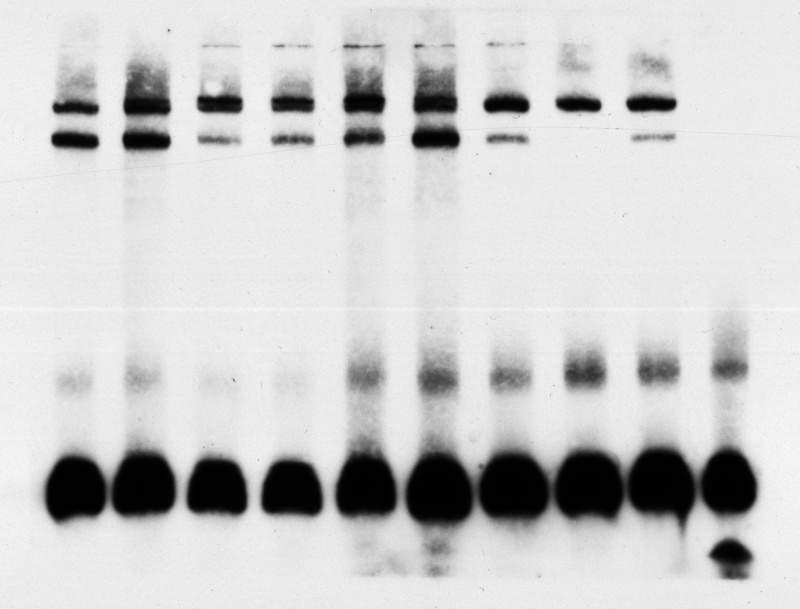 Lane
1: A biotin + G unlabelled + extract
2: A biotin + extract
3: A biotin + PPARg AB + extract
4: A biotin + Coup-TF AB + extract
5: A biotin + FoxD1 AB (should be the non specific control) + extract
6: A biotin + extract
7: A biotin + extract (Salmon sperm as non specific competitor)
8: A biotin + A unlabelled + extract
9: A biotin + G unlabelled + extract
10: A biotin alone
What can people can tell about my EMSA and "supershift"?
The top band seems to be a protein in my extract recognized by the streptavidin system as it appears also when I do a control protein alone.
Can i conclude only based on the decrease of the signal?
Thank you all for your help
PS: today i try first EMSA and then add antibodies