hi admin and chatter,
i had a problem with my primer design. pls refer to my gel picture. no 1 and no 2 is not my band actually, but no3 is my band. my question are
1. how to remove another unspecified band (no 1 and no 2).
2. how possible make single band on my gel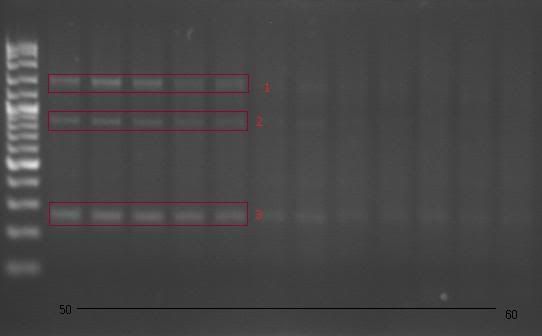 if u had same problem with me or u had some experience pls give some opinion and how to solve the problem..
this is PCR product
the PCR conditions are
Intial Denaturation 98C - 5 min
total 35 cycles
denaturation - 94C - 1min
annealing - 50 - 60C (gradient, u can see at the gel picture above) - 1 min
extension 72C 2 min
Final Extension - 72C
no 3 on the gel picture is ~272 bp
thank you all.
Edited by zack, 12 February 2009 - 09:09 AM.