Dear colleagues,
I have a problem with PDX: childrens M4 AML, 95% of blasts (CD34-51%,CD117-85%,CD38-85%,HLA-DR-73%,CD33-95%,CD64-20%,CD11c-19%,CD13-95%,CD7-41%,CD4-33%). 2 NSG mouses were dead within 2-3 day after transplantation. Both transplantation were performed with different reagents and equipment.
Blood was with heparin. Blasts: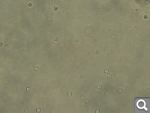 10E7 cells, in 0,4 ml PBS, via tail vein. 
Only 2 ideas:
1) Warfarin premedication must be applied
2) Blood non sterile
Could anybody some help? 
Regards, 
D.